Amandla A Revolution In Four Part Harmony Essay Format
Amandla: A Revolution in Four-Part Harmony (2002)
This documentary focuses on a lesser known yet equally important part of the apartheid history of South Africa: the music it engendered.
Director Lee Hirsch chronicles the time of apartheid from its inception in 1948 to its demise in the 1990s. He does so in part by showing footage of riots and demonstrations but also playing the songs that were being sung at different times in the country.
"Amandla!" shows how blacks were forced to leave their towns and live in government-created shantytowns outside of urban areas. And Hirsch lets his subjects – many musicians, poets, and activists – to speak or sing from the heart to describe what they went through under apartheid.
In many ways, there is a parallel between black songs in South Africa and the spirituals sung by blacks in slavery-era United States. The songs are a way of communicating, of lamenting, and of shoring up.
When much of the music was banned from the airwaves still the people sang them, proud in their defiance of white-only rule.
The documentary also illuminates the life and execution of musician and activist Vuyisile Mini. Mini wrote a popular song "Beware Verwoerd" which warns the creator of apartheid, Hendrik Verwoerd, that his time will soon be at and end and that blacks will one day rule.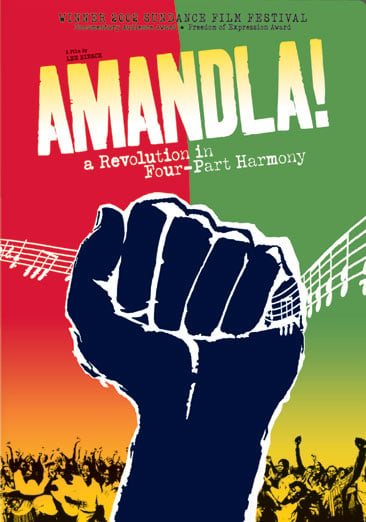 And many of the songs are militant, which is understandable because of the failure to bring about change peacefully. Part of the movie reveals how a new form of dance and song, the toyi-toyi, was integral in showing black power to white soldiers and police officers.
This film provides a snapshot of 50 years' worth of music that played an enormous role in affecting real change.
"Amandla!" is available to rent.
Fellow blogger Kimberly Curtis says the entire film is legally available on YouTube courtesy of Lionsgate. Here is the link.
Murphy can be reached at: [email protected]
Amandla! A Revolution in Four Part Harmony (2003)
Vocabulary
John Voster Square:    Main Johannesburg  police station
Amandla Ngawethu:    Power to the people. Struggle slogan
Mayibuye iAfrika:         Africa will return. Struggle slogan
Comrade:                   struggle activist
Toyi toyi:                     activists communal song/dance; military meaning
AK-47:                        automatic weapon
Forced removals:        government-mandated relocation of black communities
Knob-kerrie:               traditional Zulu stick, both weapon and ceremonial
Sjambok:                    hippo-hide whip, used by SA Police
Passbook:                  government issued document that regulated movement of blacks
Radio Freedom           ANC radio illegally broadcast into South Africa
Sophiatown                Black community of Johannesburg destroyed by forced removal
Alexandra                   black township of Johannesburg
Songs
Passop Verwoerd! (Watch out Verwoerd)
Nkosi Sikelel iAfrica (liberation song? Hymn? Prayer?)
Stimela
Nongqongqo
Senzeni na?
Shona malanga
Musicians
Vuyisile Mini
Vusi Mahlasela
Hugh Masekela
Sophie Mgcina
Dolly Rathebe
Miriam Makeba
Abdullah Ibrahim
Sibongile Kumahlo
Duma Ka Ndlovu
Other Activists
Thandi Modise
Jeremy Cronin
Sifiso Ntuli
Ronnie Kasrils
Some quotes to watch for
Apartheid as good neighborliness:  Hendrik Verwoerd
"They create the laws, but we have to execute them":  Abdullah Ibrahim
"Music was part of liberating ourselves": Abdullah Ibrahim
"African people always made music"
"Songs didn't give birth to struggle—struggle gave birth to song" followed by disagreement
"The train was South Africa's first tragedy." Hugh Masekela
"I was too angry to be a student": Thandi Modise
"It's like our young people were running straight into the sea at high speed": Duma Ka Ndlovu
Questions
Sifiso Ntuli describes several forms of resistance to apartheid. What does he describe? How do the forms of resistance interact?
What roles did music play in the anti-Apartheid struggle?
Exile was an alternative to prison for some freedom fighters, but it was not without costs. What does this film tell you about how exile was experienced by specific individuals?
Is describing the anti-Apartheid struggle as a civil war too strong a statement?
Is authorship of a song important? Is it identifiable? Does identifying an author matter?